The 15 best things to do in Lima
Here you have a collection of the best things to do in Lima!   I'm  sure you didn't know you could  do some of   these activities  in this city. The following list is according to my experience, Since 10 years ago, I've been living in and exploring everything . Many of these activities are free or   outdoors  and the best thing is that you can do it on any day and not just on Weekends.
15 of the best things to do in Lima
1 -Ride an electric scooter or bike ride through the boardwalk circuit a.k.a «Malecon de Miraflores» .
From Larcomar Mall to Parque del Amor and through the Lighthouse. It is spectacular to visit all these places with a view of the Pacific Ocean and in the middle of the sunset (Bring your camera so you can take some beautiful photos).
2 – Take a surf class .
Peru is  well known for having the best waves in South America,  in Lima you can   practice this sport.  The Costa Verde  beach   has a lot of surf schools,  rent  your gear and  get ready  enjoy classes all day long.
3 – Walk the streets of downtown Lima
In the downtown area of Lima you will find beautiful places like the Plaza Mayor, former Plaza de Armas. The streets have a colonial architecture with beautiful doors, balconies, museums, churches and sculptures.
4 – Swim with sea lions on Palomino Island
It is a unique experience located in Callao Municipality. A boat will take to islands full with sea animals that are very friendly.
5 – Visit an archeological center in the middle of the city
In Lima there are around 400 ruins, one of the most famous is Huaca Pucllana Located in Miraflores. There you can not only appreciate the Inca culture, but you can eat delicious foos  in the restaurant that is right inside.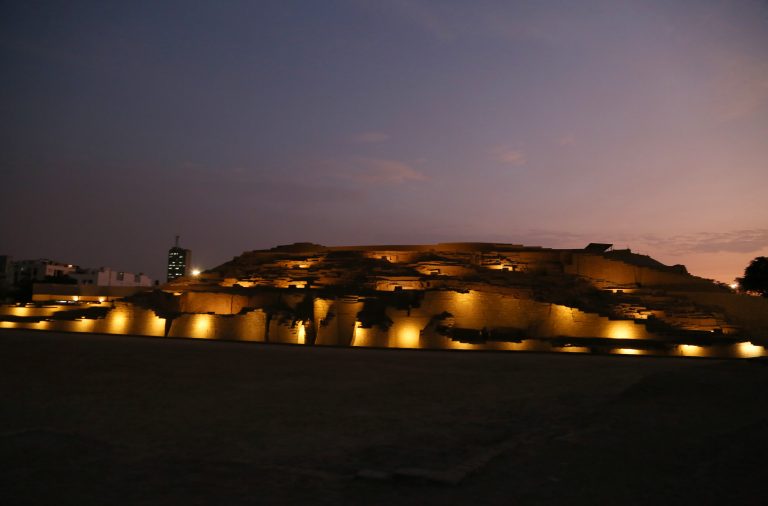 6 – Visit Callao Monumental
Known as the blessed neighborhood, Monumental Callao is an alternative attraction that has become increasingly popular, as it gathers graffiti-filled walls, must-see art galleries, varied gastronomic proposals, urban music and fashion stores.
6 – Paraglide by the coast

Spent the  afternoon on the Costa Verde of Miraflores. Paragliding is a perfect activity  to feel adrenaline  and observe Lima  from the air. It's  located next to the ocean, take some spectacular photos.
7 – Visit Barranco
It is one of the most visited districts of Lima, Barranco has a beautiful historical architecture and  lots of artistic scenes. In the the evenings it  becomes  a  party district, with  many restaurants and bars of all kinds. The Puente de los Suspiros is the most visited place. A legend tells that when you cross the bridge while holding your breath, you can make a wish.
8- Visit the Exhibition Park and the MALI
At night, the water circuit is located  in the exhibition park and although it is not free it is worth it. Nearby is also the MALI, where you will learn about the history of Peru through its art.
9-  The Catacombs of the San Francisco church
This is an infallible place, a tour  under the San Francisco Church, discover why it was a very feared place in the 1600s.
10-  Visit Kennedy Park
This site is known for the number of cats that live there, they are everywhere. You can also find artisans and painters who exhibit their works.
11-  See everything in the Surquillo Market
Visit the Surquillo Market,  a place where you will find everything from Peru from exotic fruits to ceviche restaurants. Also on Saturdays and Sundays there are organic products.
12-  Laugh with Pre-Columbian pottery
The Larco Museum is well known for one of its collection, the   Erotic Gallery, Besides, It has hundreds  of handcrafted  and historical pieces from ancient cultures of Peru such as Chimú, Nazca, Wari and Moche.
13- Look Lima from the Pacific Christ
It is located in Chorrillos, a suitable place to take a panoramic photo of Lima. It is recommended to go with some agency or locals friends.
14- Lima free walking tours
Walking is the best way to get to know Lima and especially with experts that will take you to places where you will learn a more about Peruvian culture.
15- Visit the largest  Market in Peru for Clothes
Gamarra is one of the places with more commerce in all of Peru, if you want to buy cheap clothes you can go there and find all the brands (mostly counterfeit). It is recommended to be accompanied and in the morning.
Do not forget that if you need help finding a safe place to live in Lima you can write to us at the following link -> https://www.facebook.com/roommateslimaperu/inbox